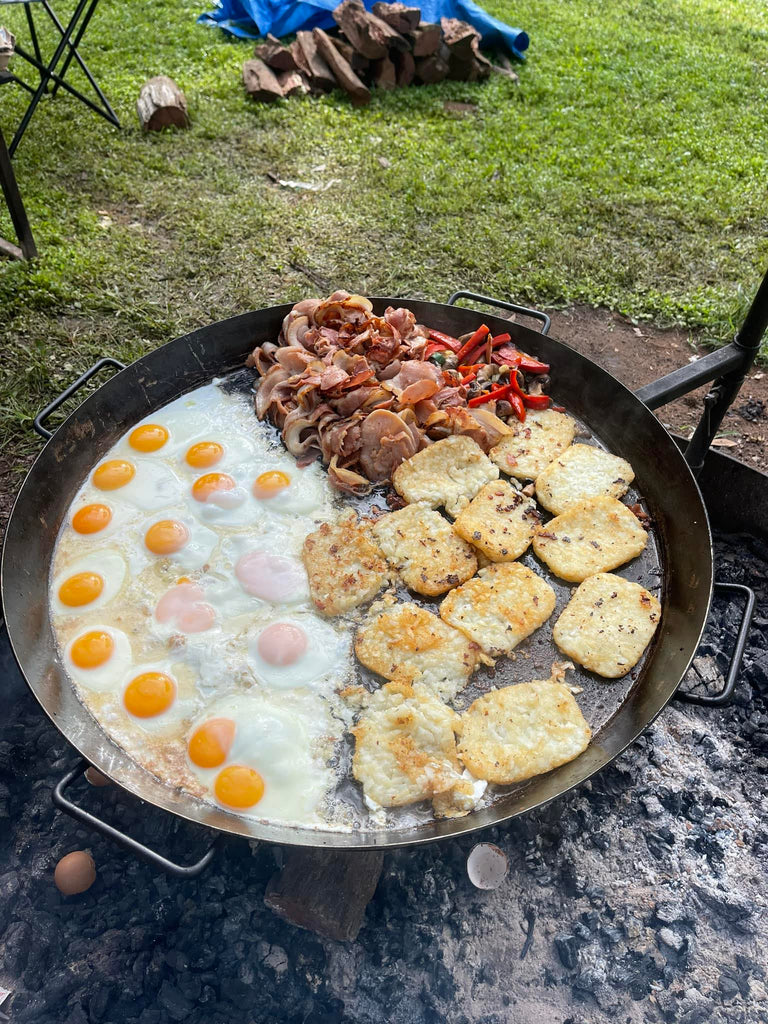 Fire Ring and Big BBQ Pan Kit
$880.00
or make 4 interest-free payments of $220.00 AUD fortnightly with
More info
ACK FIRE RING & BBQ PAN KIT
Going BUSH or at HOME & NEED to Cook for a BIG Crew
well, this is the ACK KIT for you!
It's a portable take anywhere setup.
Comes with the
ACK FIRE RING, BIG BBQ PAN & CRADLE
 Fire Ring
is 1.2 meters in diameter.
(Custom sizes can be made give us a call to discuss 0429697241)
150 mm deep & fabricated from 6 mm Plate. 
4 Bolt together segments approx. 7 kilos each
(Joining Bolts Included)
Comes with 1 welded sleeve for your Post. 
BIG BBQ PAN with CRADLE
The BBQ PAN is 600 mm in diameter, has our standard 6mm base,
3mm sides with 4 handles. 580mm arm length to end of Cradle edge. Comes with, 1 Piece Post, Locking Collar & Push Pull Hooks.
This bit of ACK Cooking Gear is one versatile bit of kit. 
Cooking for a crowd you'll have breakfast, lunch & dinner Covered! Breakfast kilos of bacon and dozens of eggs, Lunch Shallow Fry some Fish & Chips & Dinner make a HUGE Spanish Paella. Options are endless! The ACK BIG BBQ PAN is of Heavy-duty construction coming in at 15 kilos. 
It is essential that the post is securely anchored with the use of the welded sleeve on the FIRE RING due to the weight of the BIG BBQ PAN. 

Please allow up to 2 to 3 weeks for ACK ORDER dispatch as all ACK Gear is handmade.

Call us 0429697213 with any queries.

These Fire Rings are able to be easily moved around for mowing & relocation.

ACK cooking Gear pictured all purchased separately. 
Related Products