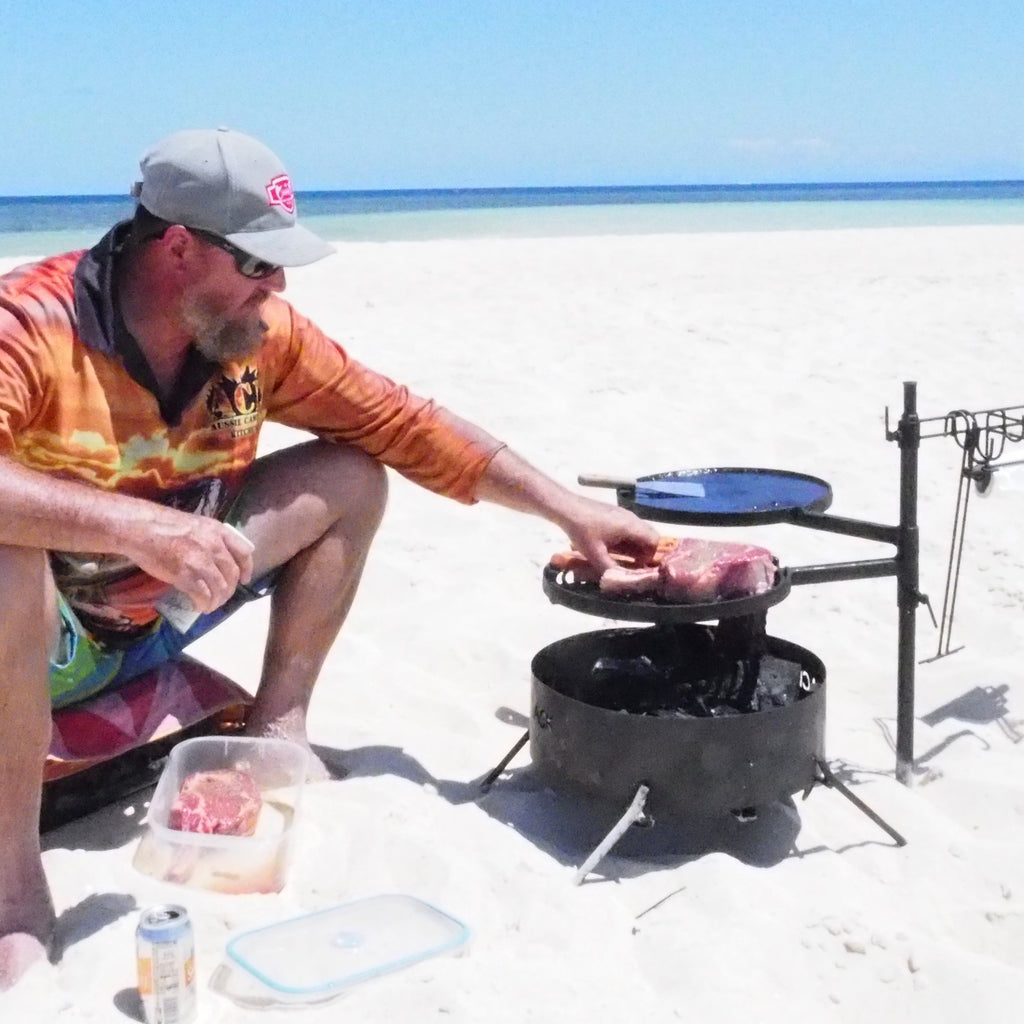 Folding Fire Pit with Swinging Hot Plate, Grill & Accessories
$650.00
or make 4 interest-free payments of $162.50 AUD fortnightly with
More info
FOLDING FIRE PIT with
SWINGING HOT PLATE, GRILL & ACCESSORIES
FIRE PIT: 
Fire Pit, Fire Trivet & Removable Gate (for use with gas ring) 
Easy to set up, robust construction, fabricated from mild steel, extremely versatile timber, gas or heat beads.
Fire pit floor to the top of the sides 120 mm, 430 mm fire pit diameter.
SWINGING HOT PLATE & GRILL:
HOT PLATE FABRICATED FROM 6 MM MILD STEEL PLATE, 360 MM DIAMETER OUTER SUPPORT RING 25 MM X 6 MM FLAT BAR FULLY SEAL WELDED. 
GRILL FABRICATED FROM 6 MM MILD STEEL ROUND BAR, 360 MM DIAMETER OUTER RING 25 MM X 6 MM MILD STEEL FLAT BAR. 
COMES STANDARD WITH 1 PIECE POST CONSTRUCTED FROM 2.4 MM WALL PIPE WITH 20 MM SOLID ROUND ENDS TO HANDLE ROCKY GROUND AVAILABLE ALSO IN A 2 PIECE POST WITH DOUBLE LOCKING COLLAR TO JOIN POSTS FOR EASE OF PACKING FOR AN ADDITIONAL $32.
 LOCKING COLLAR FOR PLATE & GRILL HEIGHT ADJUSTMENT 2 "T" HANDLE HOOKS FOR EASE OF SWINGING THE PLATE & GRILL ON OR OFF THE HEAT SOURCE AND FOR LIFTING CAMP OVENS, BILLY'S ETC. 
DIMENSIONS PACKED 400 MM W X 600 MM L X 100 MM D WEIGHT 14.5K


5 HOOK UTENSIL RACK 
WEIGHS 500 g LENGTH 580 mm x WIDTH 60 mm x HEIGHT 60 mm
HEAT RESISTANT GLOVES 
WEIGHS 500 g  
BILLY HOOK
 WEIGHS 400 g LENGTH 480 mm x WIDTH 40 mm x HEIGHT 80 mm
OPTIONAL EXTRA'S
Drop in Hot Plate, Canvas Carry Bag.
(Gas ring and camp oven, Billy's, props etc. in pictures are not included)
Total pack weight 21 kilos
Please allow up to 1 weeks for ACK ORDER dispatch as all ACK Gear is handmade. Call us 0429697213 with any queries.
Related Products